An up close and personal interview with U.S. Marine Corps Veteran and Togetherweserved.com Member:



SSgt Trice D Luker U.S. Marine Corps (2001-2008)

PLEASE DESCRIBE WHO OR WHAT INFLUENCED YOUR DECISION TO JOIN THE MARINE CORPS?

I was going through a difficult time in my life as I was fresh out of college and felt that I still wasn't ready to start a "career" so to speak. I felt like I still needed that personal sense of accomplishment in my life. A friend of mine, Capt.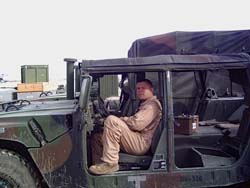 Wesley Maida (USMC), and I were talking one day and he said that he was going to go into the Marine Corps. Now when I was a kid my parents used to threaten me with sending me to Military School if I didn't behave. I never in my wildest dreams would have ever thought that I would go to the military willingly. I thought about what Wes and I had talked about over the weekend.

Both of my grandfathers served in the Navy, one in WWII and the other in Korea and I knew the stories that I had heard from them and I saw how proud they were when they talked about it and knew that I wanted to serve my country. Thing is if I was going to do this I was going to go all out. So there was no chance of me taking the easy way out and join the Navy. Nope, I walked into the Marine Corps Recruiting Station in Beaumont, TX off of Dowlen Rd. and I left for MCRD San Diego 3 weeks later.

WHETHER YOU WERE IN THE SERVICE FOR SEVERAL YEARS OR AS A CAREER, PLEASE DESCRIBE THE DIRECTION OR PATH YOU TOOK. WHAT WAS YOUR REASON FOR LEAVING?

I graduated Boot Camp on July 20, 2001, 3rd Battalion, Mike Company, Platoon 3069.I went to MCT at Camp Pendleton, India Company in September.

My MOS was 6323 CH-53E Communications and Navigation Systems. I attended my "A" School at NAS Pensacola. I had been there a week when 9/11 happened.
They sped us up and got us out of there in half the time, 6 months.

Next stop was MCAS New River in Jacksonville, North Carolina where I went to "C" School and learned the CH-53E backwards and forwards.

When I joined I never thought that I would actually be involved in a war much less two. I was assigned to 3rd Marine Aircraft Wing, Marine Air Group 16, Marine Heavy Helicopter Squadron 462. There I helped maintained 16 CH-53E helicopters. On Feb. 05, 2003 we landed at Ali Al Salem Air Base in Kuwait preparing for the invasion of Iraq. On March 20, we invaded. I was there for 7 1/2 months. Oddly enough, I landed at JFK airport in New York on September 11, 2003.

After a 10 month stay stateside we were off again. This time to Afghanistan, 10/04 - 04/05. While in Afghan I joined the ranks of the CH-53E Combat Air Crew Elite! I was an AO and flew many missions in the Northern Regions and Hindu Kush Mountains. That was the coldest I think I have ever been.

Once we returned home I left for NAS Pensacola in March of 06. This time to go back as an instructor of the same school that I had attended in '01.

I was medically discharged in May of 2008 after having 3 ankle surgeries from an injury I sustained in Afghanistan. Not a day goes by that I don't miss the Corps.

IF YOU PARTICIPATED IN ANY MILITARY OPERATIONS, INCLUDING COMBAT, HUMANITARIAN AND PEACEKEEPING OPERATIONS, PLEASE DESCRIBE THOSE WHICH WERE THE MOST SIGNIFICANT TO YOU AND, IF LIFE-CHANGING, IN WHAT WAY.

On Feb 05, 2003 I spent my first night in a foreign country, Kuwait. We slept in GP tents the first night with about 30 of us in a tent. We slept on our gear or where ever you could find a spot to lay your head. It was cold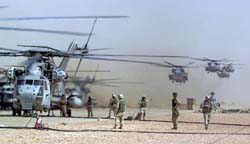 that night. A lot colder than anyone thought that it could get in the desert.

We spent the next couple of days putting our huts together and draping the GP tents over the wood frames that we had built. It wasn't that bad once we had it up and only 12 Marines to a tent. It was scary. The sirens would go off none stop warning us of an air strike on the base. We would have to get into our NBC gear and take cover in the concrete bunkers that were placed around the base. You could hear the missiles going over head and the vibrations of the ground when they would hit or when a patriot missile would shoot them out of the sky. Sometimes we would have to sleep in full NBC garb because the attacks were so close together it was pointless to take it off.

After the initial invasion on March 20th, we would move forward to the different FOBs that were set up so we could resupply the ground troops that were pushing forward to Baghdad.

I spent time in Al Kut, Baghdad and Babylon, which was very inspirational. We went into Al Basrah, Nasiriyah and Samarra. I saw some really historical sites. People think that us being there was a waste of time, but let me tell you this, if you could have seen the looks on the people's faces when we brought them food and fresh water you would know that it was for something. They had lived under a tyrant for so long that they were scared to death to even leave their houses. They were eternally greatful.

In October of '04 we flew into Bagram Air Base just north of Kabul, Afghanistan. Here, I got my Aircrew Wings and my Combat Aircrew Wings. It was definitely different from Iraq, where temperatures would reach into the 130's. Here it stayed on average, below freezing and snowed half the time.

We took over for a Reserve Squadron out of Edwards Air Force Base, so our huts were already built and all we had to do was move in. This war was so much different because the majority of the time I was flying mission where as in Iraq, the majority of the time was spent on maintenance. It was such an experience seeing all the old Russian tanks that were left in the mountains from the Russian Invasion in the '80s. We flew missions to Bamyan and saw the cliffs where the Giant Buddha Statues once stood that were destroyed by the Taliban.

We made good friends there too, in Bamyan, The Kiwis, from New Zealand were stationed there. Those guys could get anything for you. We did missions all over the country, J-Bad, A-Bad, Ghazni and Gardez. We flew missions with Rangers and Delta guys. They let us fast rope out of our helicopters with them when would would do training out on the tarmac and up in the mountains. We shot up old Russian tanks that were left on the firing range with our .50 cals. We flew politicians on important business meetings.

One of the most important things to me that we did was drive out into one of the local villages and bring winter clothes and shoes to the kids of the town. I never saw a more special and thankful bunch of kids in my life. I know that wherever we went and whatever we did in Iraq and Afghanistan was for a reason and we made a difference.

OF ALL YOUR DUTY STATIONS OR ASSIGNMENTS, WHICH ONE DO YOU HAVE FONDEST MEMORIES OF AND WHY? WHICH ONE WAS YOUR LEAST FAVORITE?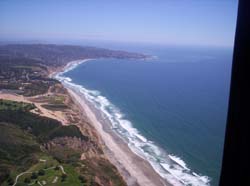 MCAS Miramar by far! I was stationed there from July 02 - March 06. I made tons of friends there. That was the first place that my wife and I lived together as husband and wife. So many great memories and friends were made in San Diego.

That place will always have a special place in my heart.

FROM YOUR ENTIRE SERVICE, INCLUDING COMBAT, DESCRIBE THE PERSONAL MEMORIES WHICH HAVE IMPACTED YOU MOST?

I'm not sure how you can break down one individual memory in 7 years of service, but if I had to pick one it would be when I was in Afghanistan, me and one of my best friends, GySgt Bryan K. Cox. We went on a humanitarian mission to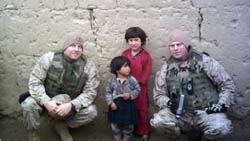 one of the nearby villages outside Bagram. We brought winter clothing to a village full of little kids that were running around in sub-freezing temperatures with shorts and short sleeve shirts and some with no shoes. We hadn't been there for 5 minutes when the prettiest most innocent little girl probably 6 or 7 years old came up to me and held my hand. She spoke very little English and she never left my side. We were there about two hours. The only thing she told me was, "Thank you" and "I hope you come back."

I got a picture with that little girl and it breaks my heart every time I look at it. I would have given anything to be able to bring her home with me. No child should have to go through that.

WHAT ACHIEVEMENT(S) ARE YOU MOST PROUD OF FROM YOUR MILITARY CAREER? IF YOU RECEIVED ANY MEDALS, AWARDS, FORMAL PRESENTATIONS OR QUALIFICATION BADGES FOR SIGNIFICANT ACHIEVEMENT OR VALOR, PLEASE DESCRIBE HOW THESE WERE EARNED.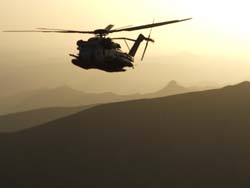 I was awarded an Air Medal for my duties in Afghanistan. That is by far the most prestigious award that I ever received. As a Combat Aircrewman we flew countless "red hours" in Afghanistan. There were countless times we would run into small arms fire from someone firing an AK-47 at a CH-53E and they soon found out that had little or should I say no affect at that range. We were wide open to RPGs at all times and countless numbers of other attacks.

The Air Medal was well deserved for all of us that received that honor.

OF ALL THE MEDALS, AWARDS, FORMAL PRESENTATIONS AND QUALIFICATION BADGES YOU RECEIVED, OR ANY OTHER MEMORABILIA, PLEASE DESCRIBE THOSE WHICH ARE THE MOST MEANINGFUL TO YOU AND WHY?

It wasn't a medal, it wasn't an award and it wasn't any qualification badge but a gesture.

The day I graduated Boot Camp my Drill Instructor, my heavy, pulled me to the side. Now mind you we were formed up about to march onto the Parade Deck for graduation. He took his Eagle, Globe and Anchor emblem off of his Campaign Cover and told me, " In the 3 years that I have been on the Drill Field I have never had a recruit put so much leadership, determination or dedication into anything than you, and it has been a pleasure watching you evolve into a Marine." He shook my hand and gave me his Eagle, Globe and Anchor off of his cover and told me to fall back in.

That was more than any medal or award or qual badge that I could have ever received.

WHICH INDIVIDUAL(S) FROM YOUR TIME IN THE MILITARY STAND OUT AS HAVING THE MOST POSITIVE IMPACT ON YOU AND WHY?

GySgt Robert McIntosh (JUNYA), had the biggest impact on me. We did a tour together in Afghanistan and worked together at HMH-462 and then I ran into him again as an Instructor at NAS Pensacola. He taught me a lot about my job as an Aircrewman. He taught me what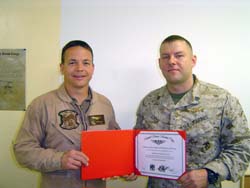 it meant to be patient. He talked to you like you were a person that was learning and not like some idiot that should already know everything. He would never get mad at you, he would just say, "I'm disappointed." When he would tell you that it was worse than getting your butt chewed. You felt like you let your dad down or something. He was very knowledgeable and he took all of us youngsters under his wing and taught us and let us run the showed instead of treating us like kids. I will always looked up to him.

Lt. Col. Dennis R. Stephens (NUNYA), was my CO from 2004-2006 and on my deployment to Afghanistan. He is a Marine's Marine. He was everything that you would look for in a leader. Col Stephens was a firm believer and follower of Mission Accomplishment and Troop Welfare. He set morals and standards for us, not only on the battlefield but in our personal lives as well. He was a great pilot, a great mentor and a hell of a Marine. I will forever be indebted to him for getting me back to the states in one piece.

CAN YOU RECOUNT A PARTICULAR INCIDENT FROM YOUR SERVICE WHICH MAY OR MAY NOT HAVE BEEN FUNNY AT THE TIME, BUT STILL MAKES YOU LAUGH?

Christmas '04 we were deployed to Afghanistan and we had the day off. No flights no maintenance nothing. We could do whatever we wanted to that day. Two of the funniest moments happened that day. First, me, Sgt Jason Barton, Sgt Pat Salcido and SSgt Darren Lapsley were playing Ghost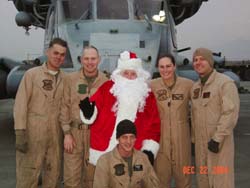 Recon. We had acquired a TV from one of the previous guys who were there that we took over for and SSgt Lapsley brought his PS2. We were playing as a Fire Team on a mission when Sal ran across a road looking for cover and Barton shot him in the back. Sal said "WTF bro?" and Barton replied, "well this SOB is running around like it's Christmas!" I said, "It is Christmas, Jack Tard!" We laughed about that for weeks.

Later that day SSgt Cox and I were walking back from the gym and I started telling him a story about something that happened to me before I joined the Marines. It went on for about 20 minutes or so as we walked back and finally he looked at me and said, "this is the weirdest story that I have ever heard." As we walked a little bit longer he looked around and started laughing. I had been taking words that I saw on signs or sides of building or on cars or conex boxes and putting them into a story for over 20 minutes. He finally caught on to what I was doing and still reminds me of that conversation.

WHAT PROFESSION DID YOU FOLLOW AFTER YOUR MILITARY SERVICE AND WHAT ARE YOU DOING NOW? IF YOU ARE CURRENTLY SERVING, WHAT IS YOUR PRESENT OCCUPATIONAL SPECIALTY?

I work for a company called Burrow Global, who specializes in Engineering, Procurement and Construction. I am a Project Controls Specialist and I credit the USMC for my Leadership, Organizational Skills and the Attention to Detail aspect that allows me to accel at my job.

WHAT MILITARY ASSOCIATIONS ARE YOU A MEMBER OF, IF ANY? WHAT SPECIFIC BENEFITS DO YOU DERIVE FROM YOUR MEMBERSHIPS?

Pop a Smoke and The VFW!

IN WHAT WAYS HAS SERVING IN THE MILITARY INFLUENCED THE WAY YOU HAVE APPROACHED YOUR LIFE AND YOUR CAREER?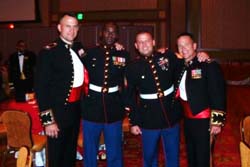 Being a manager of any sort takes leadership abilities. My job is to be accountable for 15 employees at all times and to make sure that jobs are completed safe, on time and efficiently. Every aspect of my job can be associated with traits that I learned in the military. I credit the Marine Corps for my work ethic, my attention to detail and my goal of getting each job completed.

BASED ON YOUR OWN EXPERIENCES, WHAT ADVICE WOULD YOU GIVE TO THOSE WHO HAVE RECENTLY JOINED THE MARINE CORPS?

Stay in! Enjoy the camaraderie as much as possible. If you are serving for the right reasons and love what you do, don't change. I gave my heart and soul to the Corps and when I was forced out due to injury I was devastated.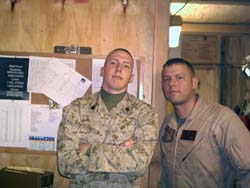 Not a second of a day goes by where I don' t wish I was back there. Do your job to the best of your ability and you will have no regrets.

IN WHAT WAYS HAS TOGETHERWESERVED.COM HELPED YOU REMEMBER YOUR MILITARY SERVICE AND THE FRIENDS YOU SERVED WITH.

TREMENDOUSLY! I thought that once I got out and moved back to Texas that I would never see or talk to anyone ever again. I am able to talk to all my friends on here and find out what my old squadron is up to and how they are making a difference. Every time I log on it takes me back and makes me fell like I am still there sometimes. I am so very appreciative for Togetherweserved.com!

Semper Fi and God Bless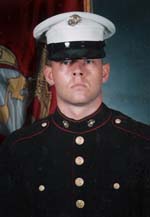 SSgt Trice Luker
Contact This Member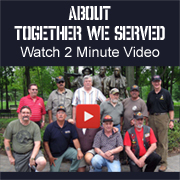 Read Other Interviews in the TWS Voices Archive