An up close and personal interview with U.S. Marine Corps Veteran and Togetherweserved.com Member:



Sgt Hank Picariello U.S. Marine Corps (1969-1970)

PLEASE DESCRIBE WHO OR WHAT INFLUENCED YOUR DECISION TO JOIN THE MARINE CORPS?

As a product of the Baby Boomer age, my earliest recollections were movies and stories about WWII and Korea. When I was 11 years old I saw the movie "The D.I." starring Jack Webb. From that moment on I had something within me, deep inside of my soul or inner being that kept telling me that I wanted to be a part of a branch of the military that had the reputation and history of being the best of the best and the toughest bad asses on the face of the earth.

Growing up in the inner city, neither rich nor poor, but somewhere in the middle, I had my share of scrapes and run ins with the law. After high school I started college, but never really applied myself or worked very hard at it. My heart wasn't in it and I chose to have a good time rather than study hard for good grades. After three years my grades were so poor that I was throw out and subsequently lost my student deferment. It was May 1968 and the Vietnam war was at it's height, I never really paid much mind to it and what was going on half way around the world. In a panic I started attending night school hoping to redeem myself and get back in school full time. Even though I managed to get a B in the two night courses I took, the letter arrived in the mail. "Greetings" it said. You have been inducted into the United States Army. At the age of 22 I was at a crossroads in my life. I knew I needed discipline in my life. I had to grow up and for once in my life made what I regard as an adult decision. The machine gun, staccato style delivery of Jack Webb's voice as a Marine Corps Drill Instructor was rattling around in my head from the movie I had seen half a lifetime ago. Within two hours of opening that Army induction letter, I had enlisted in the United States Marine Corps. I made a fateful decision, a decision that I would question soon enough once I stepped off the bus at Parris Island. It was a decision, as it turned out, that would change my life forever.

WHETHER YOU WERE IN THE SERVICE FOR SEVERAL YEARS OR AS A CAREER, PLEASE DESCRIBE THE DIRECTION OR PATH YOU TOOK.

My primary MOS out of boot camp and ITR was as an 0331, machine gunner. With just days left to ship out to Vietnam, I found myself being processed with the 150 other Marines in my series passing through a Quonset hut at Camp Pendleton. The Marine reviewing my records folder looked up at me and informed me that my training scores qualified me to attend Vietnamese language school. It wasn't until he mentioned that successful completion of the 12 week course would get me another stripe, to add to the one I got out of boot camp, that he got my attention. When I said yes, he promptly stamped my records and directed me to another desk on the opposite side of the building and told me to report there. After doing so I realized I was now in a line of one, just me.
The other Marines in my series continued to get processed and prepare to ship out in a matter of days. When told that I would be getting on a bus for the Defense Language Institute, Presidio of Monterey, CA at 0700 hrs. the next morning, I panicked and did everything I could to reverse my decision, to no avail. My tour of duty in Vietnam was delayed by 3 months but this decision to attend language school earned me another stripe and ultimately a new MOS, 0317, S-2 Intelligence Scout/Sniper. Little did I know what was in store for me until I arrived in-country. The last 10 months of my tour of duty would be spent in active combat operations with different units. As an S-2 Scout/Sniper I was essentially a grunt but not part of the herd, so to speak. Depending on which unit I was with, 2/26 or 1/7, I either operated in 4-6 man intelligence patrols, was attached to line companies along with my Kit Carson Scout or served as a liaison with ARVN combat units. There was seldom a dull moment as it seemed the Scouts were always where the action was.

IF YOU PARTICIPATED IN COMBAT, PEACEKEEPING OR HUMANITARIAN OPERATIONS, PLEASE DESCRIBE THOSE WHICH WERE THE MOST SIGNIFICANT TO YOU AND, IF LIFE-CHANGING, IN WHAT WAY.

My tour in Vietnam, from September 1969 to September 1970 involved combat operations throughout the I Corps AO. My first unit was with 3/4 on the DMZ. I was initially assigned to a machine gun crew and for the next 2 months humped the mountains and outlying areas in and around Dong Ha. It was not long before I experienced the realities associated with combat and my introduction to combat casualties and death. Not a day goes by that I don't relive the horror of listening to the screams and cries of the first Marine that died in my unit. He kept screaming his mother's name over and over again as the Corpsmen worked frantically to try and keep him alive. All they could do was ease his pain, however, until he died aboard the medevac helicopter on its way to First Med.

I sadly came to realize that all the others that suffered the same fate would do the same thing, scream out for their mother's or loved ones as they took their last breaths. This experience continued to unfold as my tour of duty stretched out for the next 10 months while serving with 2/26 and 1/7 where I served further south throughout the Da Nang area and LZ Baldy. Like all the rest, I somehow developed the ability to desensitize myself from the finality of death of other Marines and was grateful to still be alive.

FROM YOUR ENTIRE SERVICE, INCLUDING COMBAT, DESCRIBE THE PERSONAL MEMORIES WHICH HAVE IMPACTED YOU MOST?
To this day I am in awe of the courage, bravery and selfless disregard to personal safety that Navy Corpsmen somehow summon up in risking their lives to go to the aid of a wounded Marine during the chaos and terror of combat. It is beyond comprehension how anyone in the heat of battle could do what a Corpsman does when everyone else is trying to take cover and stay alive. The proud history of the United States Marine Corps is founded on the sacrifices made by every Marine that ever earned the title and wore the uniform, in time of peace or war. Throughout this history, Navy Corpsmen have given their own lives trying to save the lives of wounded Marines. In my mind, no one has ever done more to enhance and advance the legacy of the Marine Corps than Navy Corpsmen.

OF ALL THE MEDALS, AWARDS, QUALIFICATION BADGES OR DEVICES YOU RECEIVED, PLEASE DESCRIBE THE ONE(S) MOST MEANINGFUL TO YOU AND WHY?
The most meaningful award I received during my enlistment in the Marine Corps is the Combat Action Ribbon. It is just a strip of blue, yellow, white and red woven cloth barely more than an inch and a half long and 3/8ths of an inch wide. It is one of only a handful of military decorations that is not accompanied with a medal that corresponds to its significance. I can't explain, nor has any one ever explained to me, why this is the case so I just leave it to so many other things that separates the Corps from the other military branches by saying "it is the Marine Corps way". To me it signifies that in my time, in my own way, I earned my stripes. Not the stripes that I wore on my collar or uniform, but the stripes that I earned as a man in the service of my country while upholding the proud legacy of every other Marine that served before or after me.

WHICH INDIVIDUAL(S) FROM YOUR TIME IN THE MILITARY STAND OUT AS HAVING THE MOST POSITIVE IMPACT ON YOU AND WHY?

It would be easy for me to recall the image of Jack Webb in the movie "The D.I" as the individual who inspired me the most and as having the biggest impact on me with respect to my military service. I would be naive to think that this is really the case because Jack Webb was just a symbol. It's true that his depiction of a Marine Drill Instructor burned an indelible vision in my brain of someone that I wanted to emulate as a young boy. The reality is every Marine that ever lived or died in the course of the past 237 years has served as my role models. The Marines that are serving today, those that continue to place themselves in harms way, are my heroes and my role models.

CAN YOU RECOUNT A PARTICULAR INCIDENT FROM YOUR SERVICE WHICH MAY OR MAY NOT HAVE BEEN FUNNY AT THE TIME, BUT STILL MAKES YOU LAUGH?

While in Vietnam there was never anything less than maintaining a 100%combat awareness mentality unless we were out of the bush or in a rear area. We could let our hair down and try to have a good time within reason. One memorable moment that I still laugh about to this day occurred while en-route to start yet another 4-6 day Intelligence patrol with a few other Scout/Snipers. We were riding in an open vehicle with just our war gear and supplies and traveling over the Hai Van Mountain just north of Da Nang. Traveling over Hai Van, even under the best of times, was a harrowing experience because to do so involved traversing hair pin curves and navigating a narrow strip of road with shear cliffs on one side of Highway 1. During the downward or northern decent our vehicle found itself in a line of other military and civilian vehicles that were inching along so as not to overturn on many of the sharp turns. In front of us was a U.S. Army 5 ton truck that was laden with supplies. Most notable of the many crates and boxes in this doggie truck were several cases of alcoholic beverages probably destined for some Army Officer's Club or staff headquarters.

One of the Scouts in our group, without warning or expectation jumped from the back of our truck and raced to the back of the Army truck in front of us that was nearly at a standstill waiting to drive around the hair pin turn. His nick name was "Travis" and without skipping a beat, jumped up on the tail gate of the Army truck, snagged a case of booze, took a backwards step off the tailgate and ran back to our vehicle with his booty. We couldn't believe it. We had a full case of vodka, scotch, whiskey and other spirits. And no one, certainly not the doggies in front of us, were any the wiser that they had been infiltrated and relieved of their supplies. When we got to our jump off spot a few miles down the highway we took the case of booze with us and buried it well off the roadway. 5 days later when our patrol was finished, we dug up the booze and brought it back to our base camp on top of Hai Van Mountain and partied like there was no tomorrow. We drank, sang, fought, killed rats and feasted on c-rations that somehow tasted like gourmet food that night thanks to a liberal portion of Jim Beam, Schmirnoff and Jack Daniels. Those were the times.

WHAT PROFESSION DID YOU FOLLOW AFTER YOUR MILITARY SERVICE AND WHAT ARE YOU DOING NOW? IF YOU ARE CURRENTLY SERVING, WHAT IS YOUR PRESENT OCCUPATIONAL SPECIALTY?

With no job prospects on the horizon or even a clue as to what to do next after coming home from 'Nam I took a relative's suggestion and went to work in the post office back home in Boston as a mail handler. Before long I saw a job posting on the bulletin board for openings as a Postal Police Officer. Little did I know the postal service was home to the oldest federal law enforcement agency, the US Postal Inspection Service. A promotion to Sgt. came a couple of years later that also involved a transfer to New Haven CT. It was around this time I decided to give college another try and enrolled at the University of New Haven under the G.I. Bill. Lo and behold, it seems the discipline and the maturity I developed in the Corps translated into not only good grades but graduation with honors. With a sheepskin in hand I applied for and was accepted as a US Postal Inspector.

The next transfer was to New York where I found myself chasing people all over the Bronx and the rest of the boroughs of NYC. After 28 years of investigating robberies, burglaries, mail theft, mail fraud and other postal violations I retired in 1997. I immediately went to work for Citigroup Security and Investigative Services as the New York Regional Manager for Credit Card Fraud Investigations. A severance package came in 2007 but new job opportunities came with contract work with a law firm in NYC. Now I work part time, mostly as a court monitor for high profile people that have run afoul of the law and bear the cost of 24/7 armed escorts as part of their bail agreements. Bernie Madoff is probably one of the most infamous of these clients but there have been others. I hope to continue working until I run out of ammo and grenades.

WHAT MILITARY ASSOCIATIONS ARE YOU A MEMBER OF, IF ANY? WHAT SPECIFIC BENEFITS DO YOU DERIVE FROM YOUR MEMBERSHIPS?
I joined the VFW back in 1970 but had a bad experience with an older member the very first day I walked into my local VFW. He asked me if I was a Viet Nam vet and when I told him I just returned home a month earlier he said that Nam vets really didn't belong in the VFW because they really didn't fight in a war. I walked out and never went back. Although attitudes have changed I prefer to donate to the USO and have done volunteer work at my local VA Hospital. I recently became a life member of the DAV after one of their service officers helped me with my VA disability claim.

IN WHAT WAYS HAS SERVING IN THE MILITARY INFLUENCED THE WAY YOU HAVE APPROACHED YOUR LIFE AND YOUR CAREER?

My military service is probably the single most significant factor and guiding principle that has shaped my life since the day I stepped on the yellow foot prints on Parris Island. The decision I made to enlist in the Marine Corps instead of being inducted into the Army was one that I initially regretted once I stepped off that bus and onto the pavement. After wasting time having a good time between high school and my initial college years, I came to realize that sometimes you have to take the long way around to get to where you want to go or where you were destined to go. Although I learned the hard way I became a man, finally. I will always be thankful to the Marine Corps for helping me find my way.

BASED ON YOUR OWN EXPERIENCES, WHAT ADVICE WOULD YOU GIVE TO THOSE WHO HAVE RECENTLY JOINED THE MARINE CORPS?

Today's service members, of all branches live in a world far more complicated and in many ways more dangerous than my generation. For those in harm's way serving in a combat area I just have one piece of advice. Do your job as you were trained to do. Listen to your NCO's. They are doing their best to keep you alive and get you safely back home. Don't take unnecessary chances or try to be a hero. However, one thing is a must when the situation calls for it. Simply put, if another Marine needs help do not hesitate to provide that help. Do what has to be done to get your fellow Marine medical attention or get him/her to safety at whatever the cost. Once back home, be proud of your service and those who served with you. As a civilian, approach any service members you meet and thank them for their service as they are you and I. We are all one.

IN WHAT WAYS HAS TOGETHERWESERVED.COM HELPED YOU REMEMBER YOUR MILITARY SERVICE AND THE FRIENDS YOU SERVED WITH.

Since becoming a member of TWS hardly a day goes by that I don't open my profile or enter a Forum to read and listen to what my generation and today's generation are saying about all manner of topics and issues. All of my service mementos that included photos, records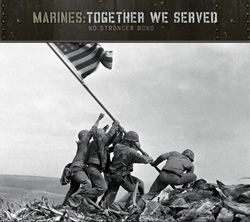 TWS and the US MARINES

and awards were relegated to the deepest recess of a closet in bags that have not been touched in years. These remnants of my military service now have a place where they can be displayed and shared with those I served with and any other Marine who cares to thumb through another time in history. It has also given me an opportunity to list and display my life's work and current activities. Most importantly, however, I can voice my opinions while agreeing or disagreeing with other members on what the world was and is like today. I have found other members I served with and shared memories of long forgotten battles and honored the memory of Marines who we served with and who made the ultimate sacrifice. Thank you TWS.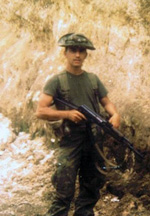 Sgt Hank Picariello
Contact This Member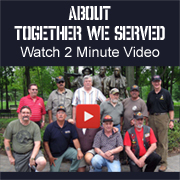 Read Other Interviews in the TWS Voices Archive