An up close and personal interview with U.S. Marine Corps Veteran and Togetherweserved.com Member:



Sgt Steven Prowant U.S. Marine Corps (1971-1975)

PLEASE DESCRIBE WHO OR WHAT INFLUENCED YOUR DECISION TO JOIN THE MARINE CORPS?

I grew up in New Columbia PA, and went to high school in Milton. There were several large companies where I could have found employment, but just didn't see myself going right to work and staying there without seeing some of the world first. I loved my country and thought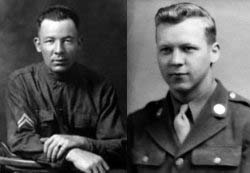 it was my duty to serve. One of my grandfathers had served in the Army, and the other in the Navy. My dad served in the Army, and my brother in the Navy. Since no one in my family had served in the United States Marine Corps, and since it is the best of the armed services, I decided the Marine Corps was for me.

During that time I also knew two people who had served in the Marine Corps in Vietnam. My former Boy Scout Leader, who eventually married my cousin, and an older brother of a good friend. Nelson Doebler and Greg Koch. They didn't warn me not to go, so I just figured it was okay and the right decision. So I signed up in January 1971, and left for Boot Camp on June 16th. It was only sometime in the night hours of what must have been June 17th that I began to question that decision. Questions like: What the hell have I done, and why didn't they tell me, ran through my head. Oh...I also wanted my mommy real bad.

WHETHER YOU WERE IN THE SERVICE FOR SEVERAL YEARS OR AS A CAREER, PLEASE DESCRIBE THE DIRECTION OR PATH YOU TOOK. WHAT WAS YOUR REASON FOR LEAVING?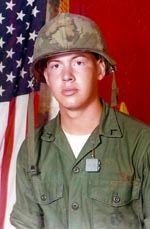 After all the testing in boot camp, the Marine Corps figured it best to make me an Amphibian Tractor Crewman MOS 1833. Who was I to argue with what must have been years of scientific research that enabled them to come to that conclusion? So I agreed, and after that short stay at 1st IT Bn., 1st ITR, MCB Camp Lejeune N.C., I was off to California to learn how to be an Amphibian Tractor Crewman. That is what I am, and I'm proud of it. Now along the way, I kept my eyes and ears open for other opportunities. I was once a Company Career Planner, and also the Battalion Assistant Rifle Range NCO. When my four years were up in June on 1975, I was simply ready to move on. I planned on starting college that fall, and starting a new chapter in my life.

IF YOU PARTICIPATED IN COMBAT, PEACEKEEPING OR HUMANITARIAN OPERATIONS, PLEASE DESCRIBE THOSE WHICH WERE THE MOST SIGNIFICANT TO YOU AND, IF LIFE-CHANGING, IN WHAT WAY.

I did not participate directly in combat operations. I was aboard ship off the coast of Vietnam, and only occasionally sent to General Quarters. Whether the ship was being threatened or not, I don't really know. On one ship, we were assigned to a gun as part of the Marine's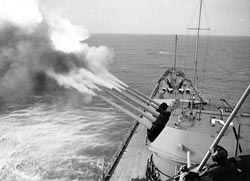 duty on that ship. I remember sitting in the rain in the middle of the night listening to the radio and hoping there was not a call, warning us of any threat to the ship. Not because I felt fear for my life, but rather fear that we were not actually able to defend the ship. We did have a training exercise somewhere near Subic Bay once, but that really wasn't enough. It was fun shooting at targets on an island but it didn't really prepare us to shoot down aircraft or approaching boats. I'm not sure either of those were a serious threat anyway.

While off the coast of Vietnam we made one landing with South Vietnamese Marines. There were three platoons of Amtracs and two were needed. My platoon's communication vehicle was out of service so the other two made the landing. We didn't know which two platoons would go until the morning of the landing. I stood on the deck of our ship that morning watching in complete awe of what I was seeing. We were directly behind either a cruiser or destroyer in formation.
I have always believed it to be a battleship, but the AAR states that destroyers and cruisers were firing on the beach before the landing. If you have never seen a destroyer, cruiser or battleship firing its guns, I can tell you it is something to behold. As I watched the helicopters and fighter jets flying overhead, and the big guns of the ship firing on the beach, I had mixed emotions. As a Marine I was trained for, and wanted to experience battle. I felt like I should be there with my friends. As a person with my brain able to think things through from the relative safety of the ship's deck, I realized I was among the fortunate that day. As it turned out, we didn't lose any men or tractors in that landing. Something I was very thankful for, because I had good friends participating. Terry Nordin for one. The operation was SONG THANH 6-72. It required the landing of South Vietnamese Marines in the vicinity of the Cua Viet River, Quang-Tri Province, South Vietnam. The Operation After Action Report, written by LVT Platoon Commander R.L. Williams Jr. 1st Lt. USMC, is posted in my picture section. You may notice the word confidential on the report. However, it was declassified many years ago.

OF ALL YOUR DUTY STATIONS OR ASSIGNMENTS, WHICH ONE DO YOU HAVE FONDEST MEMORIES OF AND WHY? WHICH ONE WAS YOUR LEAST FAVORITE?

I'll answer the second part of this question first. I really didn't enjoy my assignment as Company Career Planner very much. I had a tiny office with no windows and had to call everyone in to tell them something they didn't want to listen to. Either they were not staying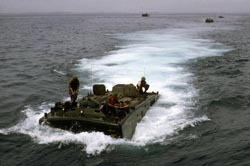 in and knew it, or they pretty much had a career path figured out. At least that's how it seemed to me. I did do one thing during that time that I would call rewarding. I helped get the Marines from our company, who had not graduated high school, to a battalion class where they could work on getting their GED. One of our Lieutenants had a wife who was a teacher. It was my job to get the guys to her class.

A favorite duty station or assignment is hard to pick because for various reasons, I enjoyed most of them. 1st Amtrac Battalion, 3rd Marine Division was good because we were always on the move. Going someplace and doing something. Doing things we had been trained to do and then training more. The war was still going on, and it seemed people didn't mess with you simply for the sake of messing with you. I also had a CO that I would have follower anywhere. Captain Bradley. A "real" Marine who lead by example, and cared about the well being of his men. He didn't just say do it, he did it, and we followed. In other words, he was a LEADER of Marines. I also enjoyed 3rd Amtrac Battalion 1st Marine Division because I was there longest, and made closer friendships. While in H & S Company I met two friends I am in touch with to this day. Arnold and Serge. The various jobs I held while there were interesting and for the most part, fun enough, but it was the relationships with fellow Marines I enjoyed the most. That was true for all four years.

FROM YOUR ENTIRE SERVICE, INCLUDING COMBAT, DESCRIBE THE PERSONAL MEMORIES WHICH HAVE IMPACTED YOU MOST?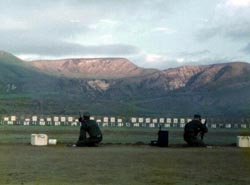 One memory that stands out is winning the 1st Marine Division Rifle Team competition. I really enjoyed being a member of that team, along with my friend Serge. I also competed in the division small bore competition, and took 3rd place. In four years there were many good memories of the Marines I served with, and the times we had together. It's hard to pick just one, but the rifle competition stands out because it was truly an outstanding accomplishment.

WHAT ACHIEVEMENT(S) ARE YOU MOST PROUD OF FROM YOUR MILITARY CAREER? IF YOU RECEIVED ANY MEDALS FOR VALOR OR OTHER SIGNIFICANT AWARDS, PLEASE DESCRIBE HOW THESE WERE EARNED.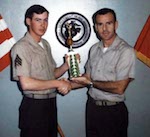 I was "Honor Man" of my platoon in boot camp, went where I was sent without question or hesitation, on a rifle team that won a 1st Marine Division competition, and advanced to the rank of Sergeant. But, no matter how corny this sounds, I am most proud of the moment I became a Marine.

OF ALL THE MEDALS, AWARDS, QUALIFICATION BADGES OR DEVICES YOU RECEIVED, PLEASE DESCRIBE THE ONE(S) MOST MEANINGFUL TO YOU AND WHY?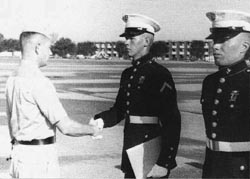 In addition to winning a division team rifle competition, the most meaningful award I received was "Honor Man," as I recall it being named, or "Outstanding Marine" of my recruit platoon. I don't remember all the necessary qualifications but I remember being high shooter on the rifle range, scoring very high in PT, being squad leader and guide. Well, I must have done something right, because I did in fact receive the award and I have always been proud of it.

One other thought on this. Even though I am not a combat veteran, I did earn the Vietnam Service Ribbon. Through all the early years of negativity toward the title "Vietnam Veteran," I was proud to have gone where my country sent me, and performed my duties to the best of my ability and honorably. That single ribbon got me into the Veterans of Foreign Wars. Today, I am proud to put on the uniform of the VFW, and continue to serve through that organization. In addition to the Vietnam Service Ribbon, I earned the National Defense Service Ribbon and the Marine Corps Good Conduct Ribbon. Together they represent four years of honorable service. That is very meaningful to me.

WHICH INDIVIDUAL(S) FROM YOUR TIME IN THE MILITARY STAND OUT AS HAVING THE MOST POSITIVE IMPACT ON YOU AND WHY?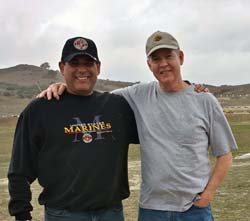 Serge Duarte and Alex Reese. These were both intelligent, motivated Marines. I served with Serge as a friend and witnessed firsthand that he was a motivated, squared away Marine. The kind of guy that brings out the best in those around him. He continues in lifelong service to our Country and I have always been very proud of his accomplishments.

Staff Sgt. Reese was someone I also looked up to for his professionalism and attention to detail. Though he was my superior, I only gave him cause to yell at me one time. When I was a "short timer" I developed a bad habit of entering his office every morning and announcing how many days I had remaining. One morning it got to him, or he hadn't had his coffee or something. I made my usual announced and he proceeded to ream me out. Understandable. I forgive him. He continued to serve, and retired from the Marine Corps a Major. Unfortunately, Major Reese died several years ago, without the opportunity to see him again.

CAN YOU RECOUNT A PARTICULAR INCIDENT FROM YOUR SERVICE WHICH MAY OR MAY NOT HAVE BEEN FUNNY AT THE TIME, BUT STILL MAKES YOU LAUGH?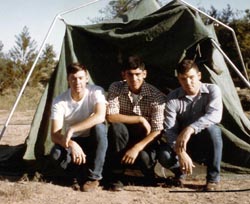 I am very sure, if I could enjoy a beer with some of the guys, there would be many things come up that would bring a good laugh. It's interesting how passing time fades those memories until someone starts talking about them all these years later. No doubt, many of them would also be those "you had to be there" kind of story. There is one time that comes to mind, and I even have the picture.

Three of us, Arnold German, Serge Duarte and myself went camping one weekend. By the time we arrived and decided on a spot to pitch the tent, it was getting very late. The attached picture should be titled, "How Many Marines Does it Take to Pitch a Tent?" The answer is four. The three of us, plus one who actually knows how! Then there was the night in Hong Kong when I got my tattoo.....

WHAT PROFESSION DID YOU FOLLOW AFTER YOUR MILITARY SERVICE AND WHAT ARE YOU DOING NOW? IF YOU ARE CURRENTLY SERVING, WHAT IS YOUR PRESENT OCCUPATIONAL SPECIALTY?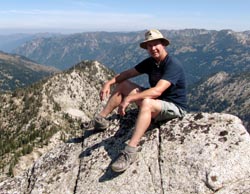 After serving four years in the Marine Corps, I entered college on the GI Bill in September of the same year, 1975. I earned an Associate of Arts in Business Administration from Clackamas Community College in Oregon City, Oregon. I followed that up with a Bachelor of Science in Business Administration from Portland State University, Portland, Oregon. I have been working at Packaging Specialties Co. in Tualatin, Oregon (www.pkgspec.com.) ever since. I manage the warehouse operation, shipping and receiving, purchase stock merchandise, and coordinate the printing department's orders. As often as possible I enjoy hiking and camping in the wilderness.

WHAT MILITARY ASSOCIATIONS ARE YOU A MEMBER OF, IF ANY? WHAT SPECIFIC BENEFITS DO YOU DERIVE FROM YOUR MEMBERSHIPS?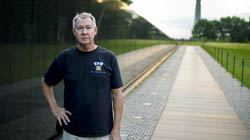 I am currently a member of USAA, Marine Corps Association & Foundation, The American Legion, the VFW, and the 3rd Marine Division Association. USAA offers excellent Auto Insurance rates. I believe in the mission of the Marine Corps Association & Foundation, and give what I can financially. The American Legion and VFW, I hope each will benefit from my membership and contributions in fulfilling their mission. It's difficult to give time to everything. What time I have, I am currently giving to activities at my VFW Post 1324. They are a great bunch of people, and it's a very active Post.

IN WHAT WAYS HAS SERVING IN THE MILITARY INFLUENCED THE WAY YOU HAVE APPROACHED YOUR LIFE AND YOUR CAREER?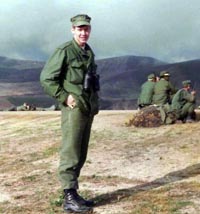 Have you ever seen the poster titled "Everything I Ever Needed to Know I Learned in Kindergarten?" Well, I didn't attend kindergarten. The United States Marine Corps taught me everything I ever needed to know. I still put my belt buckle on with military alignment. My shoes are laced left over right and always will be. I blouse my shirts. I cry at the singing of the National Anthem and The Marine Corps Hymn. When I see young Marines decorated from battle, I'm proud they served their Country and their Corps with honor. Serving has touched everything in my life. I honestly believe a day does not pass without my being aware that I am a United States Marine. Semper Fi.

BASED ON YOUR OWN EXPERIENCES, WHAT ADVICE WOULD YOU GIVE TO THOSE WHO HAVE RECENTLY JOINED THE MARINE CORPS?

Give it all you have. Let the Marine Corps turn you into a Marine. They know what they are doing. Study hard in whatever schools you attend, and make it your goal to advance in rank and leadership. Be aware of opportunities as they become available. You never know what good things may come, as a result of a little change. If you decide to leave active duty when your enlistment time expires, be aware that even on the outside people are looking for "A Few Good Men and Women." Above all other advice I would say, stay in the Marine Corps.

IN WHAT WAYS HAS TOGETHERWESERVED.COM HELPED YOU REMEMBER YOUR MILITARY SERVICE AND THE FRIENDS YOU SERVED WITH.

The TWS site has helped me, by encouraging me to dig up old records from the Marine Corps days. In my hunt for records showing what units I served with and when, old memories began to surface. I am remembering people, events, and places I haven't given much thought for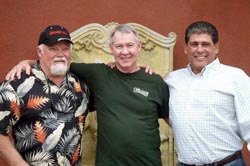 many years. It has been a very positive, fun exercise. I'm glad I finally took the time to complete my profile. I believe it's important to have a record of some kind to share and leave with my daughter and granddaughter. I want them to know I served my country and the Marine Corps well.

It was through Together We Served that I located my friend Arnold. I posted all the information I remembered from when we were last together. The very next day, I received a message from Larry Netter saying he found Arnold. He told me where Arnold worked, and gave me the phone number. My first thought was, sure...it's not that easy. I did a little research on the company web site, made a phone call, and sure enough, it was my long lost friend Arnold. The following February, my wife and I flew to Southern California to have a reunion with Arnold, Serge, and their wives. It was awesome being together again after all those years. Truly, there is no stronger bond.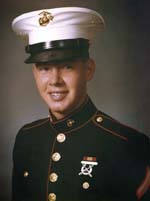 Sgt Steven Prowant
Contact This Member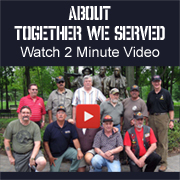 Read Other Interviews in the TWS Voices Archive