An up close and personal interview with U.S. Marine Corps Veteran and Togetherweserved.com Member:
MGySgt Ted R. Spinning U.S. Marine Corps (Ret) (1955-1977)
PLEASE DESCRIBE WHO OR WHAT INFLUENCED YOUR DECISION TO JOIN THE MARINE CORPS?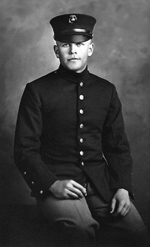 Several factors influenced my decision to join the US Marine Corps. First, my great uncle Bill Steers (show in the photo) was a Marine during the First World War. I remember the thrill I felt when my grandmother told me stories of his adventures as a young Marine.

Another factor was my seventh grade school teacher Mr. William Jackson. He served with the Marines in the Pacific during WWII. He regaled us young lads with his tales of derring-do and other sea-stories about fighting the Japanese.

When I was in high school I read "Battle Cry" by Leon Uris. This semi-autobiographical novel was about his exploits with the Marines, which was later made into a popular film by the same name. I would also credit a couple of other movies, "Gung-Ho" starring Randolph Scott as Marine Raider Colonel Carlson and "Sands of Iwo Jima" starring John Wayne as the hard-hitting Sergeant Striker. Both helped to cement my decision to join the Marine Corps as soon as I was old enough.

WHETHER YOU WERE IN THE SERVICE FOR SEVERAL YEARS OR AS A CAREER, PLEASE DESCRIBE THE DIRECTION OR PATH YOU TOOK.

My career path can best be described as come-what-may or haphazard at best.

The day after I turned seventeen years old I joined the Marine Corps Reserve in Portland, Oregon. It was an engineer unit. About a month after joining the Marine Reserves, I was asked if I'd
like to attend recruit training between my junior and senior year of high school. My father felt it was a good choice for me so off I went. Photo is me just before heading to boot camp.

When I graduated from high school, I enjoyed the summer before joining the "regulars" that autumn. I was sent to Marine Corps Base Camp Pendleton for infantry training but ended up on 30-days mess-duty while waiting assignment. After out-posting from 2nd ITR, I was still awaiting assignment of a military occupational specialty and billet. The local personnel officer was going to retain me as a clerk but when I protested work as an office-pinky, he reassigned me to another unit. I was awarded a 0311 MOS and transferred to Brig Company, Military Police Battalion Marine Corps Base Camp Pendleton.

All this time I was not getting paid. Every time I went through the pay line the pay officer would say NPD (no pay due). When I asked the reason why, the pay officer would send me on my way. A couple of pay days passed when my commanding officer commented on how my heels were badly worn and needed immediate replacement. I told him I couldn't afford new heels, as I wasn't being paid. He asked the First Sergeant to look into the problem. As it turns out, my pay record from boot camp didn't follow me, as was the norm, since it was my Reserve pay record. When I was discharge from the Reserves, that pay record was closed and stored with my Reserve Service Records. When I reported into Camp Pendleton, the Disbursing Office was supposed to recognize my situation and initiate a new pay record for me.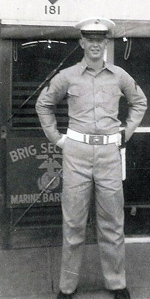 That was not done until the First Sergeant initiated his investigation and requested corrective action be taken. My back pay was paid and every month thereafter I got my monthly pay.

After serving several months in this unit, I passed the company bulletin board and spotted an announcement requesting volunteers for a two year assignment of duty with Marine Barracks overseas. I was intrigued by the phrase "tour of duty overseas" and associated this with those exotic places that Marines always hear about from the "old salts" of the Old Corps. I volunteered along with several other young Marines anxious to depart for these foreign duty ports. I was accepted and transferred to Sangley Point, Republic of the Philippines for a year with the brig section, then onto Yokosuka, Japan for my second year working in the guard section. Upon my return to CONUS, I was assigned as a troop leader at the 2nd Infantry Training Regiment, Camp Pendleton for the remainder of my enlistment.

I had already decided to reenlist for six years since I wanted to make the Marine Corps my career. When I talked over my reenlistment options with my career planner he suggested I reenlist for a school that would change my MOS to another field. Based on his suggestions, I selected training as a missile launcher repairman. But when I reported to Basic Electronics School, at MCRD, San Diego I was assigned to the aviation radar repair course instead. It turned out to be a very demanding course due to the complexity of the material and the amount of homework required. This was further compounded since I had just gotten married and found I had to spend all my time studying. Fortunately I did fairly well and graduated without any problem. Like all the rest of my classmates, I requested duty with the air wing units, but to my disappointment, I was selected to remain as an instructor at the Radar Fundamentals Course. After five years at Communications Electronics Schools I got orders for Vietnam. My assignment was 1st Light Antiaircraft Missile Battalion (1st LAAMs), a HAWK missile unit in Danang, South Vietnam.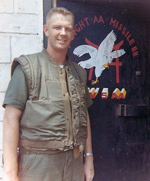 When I arrived at my unit, I was placed into the Surveillance Radar Section of the Weapons Service Maintenance Department in the Headquarters Battery. This type of radar was not essential to the unit's tactical operations as it was operating in the TAOR (Tactical Area of Operations) of the US Air Force which provided the radar surveillance data. So our radar unit was sent to a working site south of Danang on Hill 55 where the provisional Assault Fire Unit was located. But the idea turned out to be a bust. Seems the surveillance radar interfered with the HAWK missile radars causing them to loose "lock" on targets, so the mission was side-lined. Being the senior enlisted, I was selected by the unit OIC to be the NCOIC of the various sections for the remainder of my combat tour.

Upon my return to CONUS, I was assigned to another unit in Hawaii for two and half years and from there two years duty as a college student (Marine Associate Degree Completion Program--MADCOP). Following college I was assigned to the Marine Corps Communications Electronics Schools (MCCS) at Twenty-nine Palms for a year as a chief instructor, before serving another year overseas with an air wing unit in Okinawa, Japan and Cubi Point, Philippines. Again, I returned to MCCS at Twenty-nine Palms, where I was assigned to the radar lot (Electronics Maintenance School) as the operations chief (NCOIC).

In 1977 I decided to complete my 21 years and six months active service with the Marine Corps and transferred to the Fleet Marine Corps Reserve.

IF YOU PARTICIPATED IN COMBAT OPERATIONS, PLEASE DESCRIBE THE ACTIONS WHICH WERE THE MOST SIGNIFICANT TO YOU AND, IF LIFE-CHANGING, IN WHAT WAY.

I did not participate in any ground combat operations while serving in Vietnam but the threat of being rocketed, mortared, and blown-up by landmine or shot by snipers was an everyday fear. The last seven months of my tour were especially threatening as we were co-located with the 9th Marines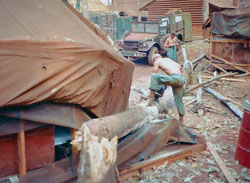 Regimental Headquarters combat base, on Hill 55, which was about 12 miles south of the Danang air base. This was prime enemy territory and one of my responsibilities was to make the Admin Run to Battalion Headquarters every 3-4 days and this meant traveling on a very dangerous road, often mined with VC booby-traps (now termed IED--Improvised Explosive Devices). There was also the threat from within.

Our perimeter defenses were probed nightly by Viet Cong who were trying to determine the location of bunkers, automatic weapons and observation posts that they could be eliminated later by enemy weapons fire (RPGs, etc.) or sappers. Many of the Vietnamese workers on Hill 55 were found to be aiding the VC, either willingly or under threat of death or maiming. Many Marines were wounded or killed on a daily basis because of the intelligence these civilians gave to the enemy combatants.

OF ALL YOUR DUTY STATIONS OR ASSIGNMENTS, WHICH ONE DO YOU HAVE FONDEST MEMORIES OF AND WHY? WHICH ONE WAS YOUR LEAST FAVORITE?

There is more than one.

Upon completion of recruit training I returned to my reserve unit and was promoted to Private First Class. I was so proud of this accomplishment. So were my parents. Unquestionably I was very proud of my succeeding promotions to Corporal up to Master Gunnery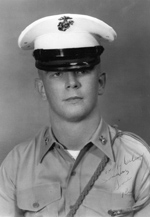 Sergeant but not quite as much as being promoted to PFC.

While stationed in Marine Barracks in Japan, the Marine Corps initiated a proficiency pay program for infantry military occupational specialties. My Platoon Commander submitted my name for consideration, and after appearing before the board, I was one of a few Marines selected to receive an extra $30 per month for a year.

After completion of my radar repair course in 1961, I was selected to become an instructor at Radar Fundamentals Course. One of the first assignments was temporary additional duty under instruction for the Basic Instructors Course at Naval Training Center, San Diego. I was able to maintain a competitive grade point average to allow me to place 2 out of about 30 students, mainly Chief Petty Officers. This was no small feat for a Sergeant of Marines amongst all those Sailors. Another requirement was to attend the Non-commissioned Officers Course, at MCRD, San Diego, where I placed first in class, competing against many drill instructors.

After I returned from Vietnam, I was assigned to Kaneohe Marine Corps Air Station, Oahu, Hawaii, with the 1st Marine Brigade. I was very surprised at the relaxed atmosphere which prevailed in the Aloha State since our Commanding General at FM Pac was General "Brute" Krulak. Due to the never ending demands of the social requirements of the base, we were constantly attending some event or another. As if that wasn't enough, I became an intramural pistol shooter for the Brigade Rifle and Pistol Team, plus a member of the Kaneohe Marines Gun Club, and the chief instructor for the NRA Youth Rifle Club, as well as attending night classes at local colleges. I was very busy.

Sometime during this tour, I applied for the Marine Corps Associate Degree Completion Program (MADCOP). On the first try I was selected as an alternate, but did not get called up as primary candidate. The second try, I was selected as a primary candidate for Palomar Community College, in San Marcos, California. Suddenly, we were immersed in student affairs and studies completely. After settling-in, I was able to maintain a 3.87 GPA, was selected for the Dean's List all semesters, and selected for the Honors Society, which was not easy, and required constant, long hours of homework. I graduated in June 1972 with honors.

After spending an abbreviated one-year tour at MCB, Twenty-nine Palms, and a year's tour overseas, I came back to Twenty-nine Palms. I was able to resume my night classes at Chapman College, MCB Regional Program. This was not easy, as it was very difficult to find the instructors for business/economics classes who were willing to teach to such a small group of students. However, I was finally able to acquire the credits needed for my degree and graduated from Chapman College in May 1976, with a Bachelor of Arts degree, in business administration and economics.

IF YOU RECEIVED ANY MEDALS FOR VALOR OR AWARDS FOR SIGNIFICANT ACHIEVEMENT, PLEASE DESCRIBE HOW THESE WERE EARNED.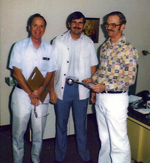 None of my medals were awarded for valor in combat. However, on September 24, 1973 I was awarded MCCES CO's Meritorious Mast for rescuing a drowning Marine during our Waster Survival Test at the Training Tank, MCB Twenty-nine Palms.

After I transferred to the Fleet Marine Reserve, I worked as a civilian employee at the Marine Corps Exchange. On October 8, 1980, I assisted in preventing an armed robber from kidnapping a co-worker and high-jacking her automobile, and subsequently followed this suspect back to his barracks, which greatly aided in his apprehension by the military police. For this, the Commanding Officer of the Naval Investigative Service Office, San Diego, presented me with a Letter of Appreciation on October 20, 1980.

OF ALL THE MEDALS, AWARDS, QUALIFICATION BADGES OR DEVICE YOU RECEIVED, PLEASE DESCRIBE THE ONE(S) MOST MEANINGFUL TO YOU AND WHY?



I retain a great deal of pride in all of the awards and recognition that I have received over the years either for meritorious and lengthy service. But if I had to pick-out just one award, it would be my Combat Action Ribbon, which was a retroactive award subsequent to my service during the Vietnam War. The principal requirement for being awarded the ribbon states the recipient must have been in a ground or surface combat fire-fight, or action during which they were under enemy fire and that their performance under fire must have been satisfactory. It is awarded to members of the Navy, Marine Corps and Coast Guard for combat action service.

This little ribbon of blue, yellow and red means a lot to me, as it does too many other Vietnam era Marines. It tells others that I am a veteran of a shooting war, not just a participant in some rear-echelon area.

WHICH INDIVIDUAL(S) FROM YOUR TIME IN THE MILITARY STAND OUT AS HAVING THE MOST POSITIVE IMPACT ON YOU AND WHY?

There were many Marines which had a great impact upon me during my career: Barracks Gunnery Sergeant Lucero, Captain Joe Eggleston, Captain Buck Smith, Sergeant John "The Fox" Rice, Sergeant Bob Geddes, Captain Richard White, Staff Sergeant Hank Baldwin, Gunnery Sergeant Joe Dilla, Captain John Wayne Neubauer, Master Sergeant Tom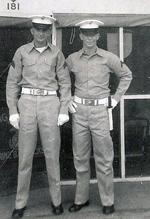 Hughes, Captain Gary Kindler, Captain Bob Jones, Major Jerry Fabricus, and many more, who names are forgotten but not their deeds.

But the one with the greatest impact was Sergeant Edward "Mac" McNamara, whom I first met in September 1957, at Marine Barracks, Sangley Point Republic of the Philippines. Sergeant Mac was my "immediate supervisor" as the Assistant Brig Warden and NCOIC of the Starboard Section of the USNS Brig. I worked for Sergeant Mac as an assistance turnkey/roving patrol and turnkey at the brig. I felt that he was the first NCO whom I could respect and try to emulate in my own performance. What is so apropos is that I recently re-establish contact with Big Mac through our membership in the Together We Served web-site. When he joined the TWS.com one of the first photos he found was the one I had posted of him and me at Sangley Point. Much more than a coincidence, to my way of thinking; we were destined to meet again after these 50-plus years after having gone own ways and careers. Yep! Sergeant Mac has to be my choice.

CAN YOU RECOUNT A PARTICULAR INCIDENT FROM YOUR SERVICE WHICH MAY OR MAY NOT HAVE BEEN FUNNY AT THE TIME, BUT STILL MAKES YOU LAUGH?

While there are many incidents that I can recall which sometimes make me laugh today, none were very funny at the time. I guess those that were funny at the time are long forgotten or were not that memorable and have fallen into forgetful-land.

If I reach way back, however,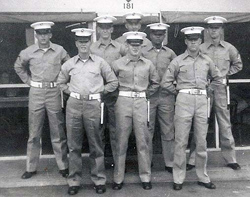 there was one that fits. Big Mo Woodson, a member of our Brig Section, walked up to the Barracks Sergeant Major Bevin and Commanding Officer Colonel John Williamson, to complain that his drinks, Singapore Slings, were not very strong, as he had had a number of them and still didn't feel their effect. Whereupon, he passed out and fell on his gigantic chin, damaging his teeth and tongue. He remained unconscious for two or three days, even during a typhoon, and had to be taken to sickbay to be checked out. The doctor explained it was probably alcoholic poisoning and to let him sleep it off.

When Big Mo finally woke up he was very hung-over and swore he'd never drink Singapore Slings again. From then on we'd joke with him by asking if he'd like to drink another Singapore Sling. His reaction was always the same: A dirty look followed by silence. For us it was funny at the time and when I think of it again, it's still funny.

WHAT PROFESSION DID YOU FOLLOW AFTER YOUR MILITARY SERVICE AND WHAT ARE YOU DOING NOW? IF YOU ARE CURRENTLY SERVING, WHAT IS YOUR PRESENT OCCUPATIONAL SPECIALTY?


After I transferred to the Fleet Marine Corps in 1977, I was hired by the Marine Corps Exchange as a stock-handler for the Christmas season in 1978, after being the house-spouse for nine months. When that job was due to expire I was selected for another position with the stock-control department as an audit clerk for the next four years. It was then that I was selected for another position in the personnel department, where I worked for about ten years. I retired from the Marine Corps Exchange/MWR November 1992. I was then asked to care for my newly born grand-daughter until she started school, about five or six years.

Now, I'm retired, retired and perform the duties of house-spouse. My wife and I enjoy our hobbies, travel and attend our reunions.

WHAT MILITARY ASSOCIATIONS ARE YOU A MEMBER OF, IF ANY? WHAT SPECIFIC BENEFITS DO YOU DERIVE FROM YOUR MEMBERSHIPS?

I am currently a member of: the Marine Corps Association and through their Leatherneck Magazine, stay abreast of what's going on in the Marine Corps.

I donate to the Marine Corps Heritage Foundation and its National Marine Corps Museum so our proud history can be seen in one place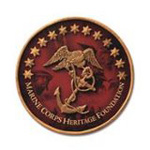 forever. I also contribute to the US Army Heritage Foundation and its museum, which allows me to enter my relatives and friends on their Registry of the American Soldier.

The Vietnam Veterans of America, which gives me a voice in the national organization of my fellow war veterans and the 1st Marine Air Wing Association--Vietnam Service which includes my unit while serving in Vietnam. The Marine Corps Scholarship Foundation, which allow me to contribute to fellow Marines or their dependents to further their education and the Injured Marine--Semper Fi Fund, which provides assistance to Marines or their family when injured. I also contribute to the Vietnam Veterans Memorial Fund.

Formerly I was a member of the American Legion, the Fleet Reserve Association and the National Society for the Sons of the American Revolution.

IN WHAT WAYS HAS SERVING IN THE MILITARY INFLUENCED THE WAY YOU HAVE APPROACHED YOUR LIFE AND YOUR CAREER?

Being a Marine has taught me that I can do anything that I set my mind to accomplish. This first became evident to me in recruit training when we were required to endure severe forms of physical exertion, or so we thought at the time. On one occasion I remember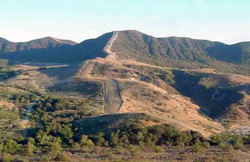 duck-walking up 'Little Agony Hill' seemingly forever at Camp Matthews Rifle Range near San Diego carrying my foot-locker and all my possessions because the drill instructor had taken offense at some action or behavior of the platoon. I'm sure we all thought we were going to die from this test of endurance but we survived and live to tell the tale. Another time and place, our company was required to hike up to the 'Shelf' and 'Old Smoky' at 2nd ITR. At that time this seemed insurmountable but our determination proved it could be accomplished. Today's Marines call in "Mudder." Looking at the photo you can see why they call it that.

So it is in many aspects of my life; when I approach some endeavor, I consider it with the idea that if it's something I wish to accomplish, then I'll set my mind to achieving that goal or objective. Anything you set your mind to do can be accomplished in most cases.

BASED ON YOUR OWN EXPERIENCES, WHAT ADVICE WOULD YOU GIVE TO THOSE WHO HAVE RECENTLY JOINED THE MARINE CORPS?

First of all I would tell them to give serious consideration to making the Marine Corps their career, especially if they have been successful so far, and don't have any concrete plans for what they want to do after they get out. I have been told by innumerable people that they wished they had stayed in the Marine Corps when it came time to reenlist. Most people don't recognize the advantages of making the Marine Corps a career, until they've gotten out and attempted to make a go of it in another endeavor. Plus, it's not very easy to get back all your rank and time-in-grade, once you've gotten out, and then decide to come back in. Other Marines are finding that they're not eligible to reenlist once they have separated because of changes in regulations.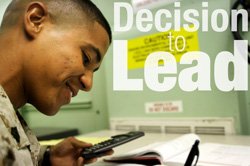 For another, I would say to those still serving to take advantage of their education benefits while they're still on active duty. In my own case I was selected for an associate degree completion program (MADCOP) while on active duty and then earned my bachelor degree by attending night classes, and making use of my tuition assistance program. Many Marine get out so they can attend college but then that sort of fades from their plans when they realize they have to work in order to pay their way through college. Another bit of advice in this regard is to contribute their maximum to their college funds so that if they do chose to get out and attend college they'll at least have some funds to help pay for this alternative.

Another important piece of advice would be to try to give something back to the Marine Corps family. The Marine Corps has invested a lot of time, energy and money to get them to the level of proficiency required to perform satisfactorily. There are many avenues by which they can repay the Marine Corps. For instance the Marine Corps Association Foundation, the Marine Corps Scholarship Foundation, the Marine Corps Heritage Foundation and the Marine Corps Injured Marine--Semper Fi Fund, just to name a few deserving groups. Most Marines are aware of certain programs while on active duty, like Navy-Marine Corps Relief, but don't know about the others.

IN WHAT WAYS HAS TOGETHERWESERVED.COM HELPED YOU REMEMBER YOUR MILITARY SERVICE AND THE FRIENDS YOU SERVED WITH.

Since joining TogetherWeServed.com I have been able to reconnect with dozens of former military acquaintances, either former coworkers or friends. This network of Marines and other services, has allowed me to establish communications with many servicemen and friends. Probably an excellent example of this was when I was able to
reestablish contract with my former classmates of MADCOP at Palomar Community College. However, the best example is when I got a call from my former Section NCO, Sergeant Mac, from Marine Barracks, Sangley Point, who I had worked with way back in 1957. He had found my profile on TWS.com and then the photograph of the two of us together. As I had posted my phone number, he called and we've been talking, keeping in contact ever since.

Note from Admin: On Sept 28, 2012, Theodore "Redtop" Spinning passed away. He left behind his loving wife of 52 years Donna, his large extended family that includes great grandchildren, and his Brother Marines on TWS. Though he is no longer here with us, we have his stories, his humor and his life here forever on TWS. One day his great grand kids will have a chance to get to know great granddad through his Voices.

Rest in Peace MGySgt.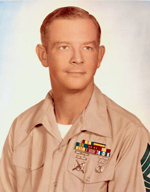 MGySgt Theodore Spinning
Contact This Member's Family


Read Other Interviews in the TWS Voices Archive