An up close and personal interview with U.S. Marine Corps Veteran and Togetherweserved.com Member:
1stLt Donald L Stover U.S. Marine Corps (1965-1970)
PLEASE DESCRIBE WHO OR WHAT INFLUENCED YOUR DECISION TO JOIN THE MARINE CORPS?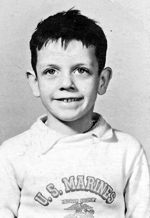 My Great Uncle Cat was a WWII Marine and made the landing on Iwo Jima. My Dad was in the Navy during WWII. He was on the Light Cruiser USS Miami and was shelling Iwo when Uncle Cat went in. I also had two uncles that were Marines. Jim was in Korea in 1953 and Jerry went in the Corps five years before me. He is only four and a half years older than me and more like an older brother.

The Marine Corps was always in my life. Here I am wearing a Marine Corps sweatshirt at the tender age of five. I just always knew I would join the Marine Corps.

WHETHER YOU WERE IN THE SERVICE FOR SEVERAL YEARS OR AS A CAREER, PLEASE DESCRIBE THE DIRECTION OR PATH YOU TOOK.

When I enlisted in May 1965, I scored very high on the entrance tests. My recruiter was very happy about that and asked me if I would like to be a pilot. Now what teenage boy would not want to be a pilot so he filled out the paperwork requesting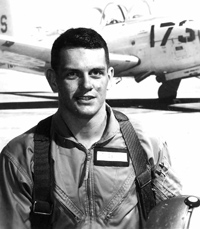 I be considered for the Marine Aviation Cadet program?

I promptly forgot about that until about the second week of boot camp at Parris Island when the Senior DI called me front and center. As we all know that is not a good thing. The word had come down for me to report to a building to take a two year collage equivalency test. That's when the senior DI found out I had applied to become a pilot. A week or so later I was again called front and center to go over to NAS Charleston to take a flight physical. More attention I did not need.

I graduated from Boot Camp and was sent to Camp Lejeune for ITR. I completed that in due course and was then sent to casual company to await my MARCAD (Marine Cadet) application to be processed. I got the word in December 1965 that I had been accepted. I went home on leave and reported to NAS Pensacola Jan. 1, 1966 for pre-flight. After Boot Camp pre-flight was a piece of cake.

I graduated from pre-flight and went to Saufley Field for initial flight training in the T-34. I soloed there and went on to NAS Whiting Field for training in the bigger T-28. This was when things got very hard.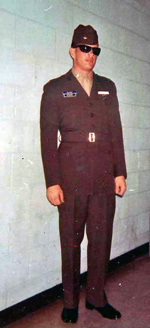 The Vietnam war was heating up and the Corps was very short of pilots. The Navy shortened the program by cutting a number of things in the training but the Marine Corps shortened the time by about two more months without cutting anything else from the program. I was falling way behind in ground school when I made a stupid mistake while flying. I went before a Marine Major who laughed about the mistake and said he would put me back on flight status but then hit me with the big HOWEVER. He pointed out I would be back in front of him in a couple weeks if I did not bring my ground school grades up. (That two year college equivalency test must have been rigged. I was a High School graduate competing with college graduates.) The major asked me if I could bring the grades up because if I could not I would wash out academically. If I washed out because of a flight down I could apply for OCS and most likely would be accepted. If I washed out academically I would not be able to apply for OCS. He said I could take some time to decided what I wanted to do. I took two seconds and decided to apply for OCS. The next day I was back to being a Lance Cpl. attached to the Marine Aviation Detachment at NAS Pensacola. I spent six or seven months working in the office and doing cross country prisoner chasing until I got word I had been accepted for OCS.

I reported to OCS class 44 in March 1967. I was in my winter greens when I reported in. I was the first warm body to arrive and the Sgt. DI told me to drop and give him 100 pushups. I was in the position pumping out pushups before he got the full sentence out. After about 30 or so pushups he told me to knock it off and go change into utilities and organize a field day of the barracks as the new civilian college boys reported. OCS was very hard physically as well as mentally. Fortunately there were fourteen of us that were enlisted before reporting in so we had a leg up over the college boys.

I graduated in June 1967 and was a newly commissioned 2nd Lt. and reported to the Officers Basic School (TBS) Class 6/67. There were 498 officers in this class. We all knew where we were going after graduation so we paid very close attention in classes. We graduated in November 1967 and most of the men were sent on leave and then to Vietnam as Platoon Commanders. I was one of those sent to another school. I reported in to Fort Sill, Oklahoma, for Field Artillery School. I graduated the beginning of March and was immediately sent to Vietnam.

A small bit of history regarding TBS Class 6/67. We had the highest percentage of casualties of any Basic School class since Korea. We had a total of forty four good men from TBS Class 6/67 killed in action (KIA). The first KIA was 2nd Lt. Michael P. Ruane on December 18,1967 after being in country only nine days. The last one was Lt. Col. William R. Higgins on July 6, 1990. He was attached to the UN Peacekeeping force in Beirut when he was captured by terrorists and eventually executed. The Navy named a ship after him. DD76 USS Higgins was launched in April 1999.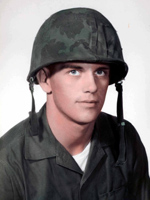 There were numerous Silver and Bronze Star Medals as well as other medals for valor earned by members of class 6/67. On February 16, 1968, 2nd Lt Terrence Graves was killed near Khe Sanh. He was posthumously awarded the Medal Of Honor. I am honored and humbled to have been associated with such great men.

I arrived in Vietnam in early March 1968 and managed to get through my tour without too many scary stories. I rotated back to the states in April 1969 and was assigned as the Base Training Facilities OIC.

Because of the draw down of Marines in Vietnam, the Corps was downsizing back to pre-war size. Since I did not have any college at all and was in fact prior enlisted I got caught in the reduction in force (RIF). I wanted to stay in but that was not to be. On 1 June 1970 I left active duty.

I would go on to spend a year in the reserves in Columbus, Ohio but again because of the lack of college I was passed over for Capt. and had to become a full fledged civilian. I was told I could go over to the Army Reserves and they would take me. After being a Marine that just was not going to happen. I did not know it at the time but I was suffering from Post Traumatic Stress Disorder (PTSD) and did not always make good decisions. I was pretty angry at the time.

IF YOU PARTICIPATED IN COMBAT OPERATIONS, PLEASE DESCRIBE THE ACTIONS WHICH WERE THE MOST SIGNIFICANT TO YOU AND, IF LIFE-CHANGING, IN WHAT WAY.

I did participate in numerous combat operations in Vietnam. Three of them were very significant.

The first one was in April 1968. As the Artillery Forward Observer (FO), I went on a platoon sized patrol. We had been being harassed by a couple of NVA soldiers for about ten days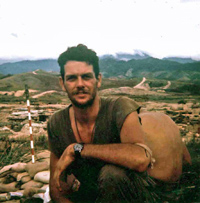 and went out to see if we could find them. We had a very new 2nd Lt. as the platoon commander and I was along to make sure he performed okay. That was funny to me because I had only been in country about six or seven weeks. It is a good thing I was along. We flushed out two NVA and our guys gave chase. The 2nd Lt. was yelling for his men to capture the NVA at the same time the Platoon Sgt. and I were trying to get the men to slow down. It sure looked like a set up for an ambush. We got everyone to slow down and moved on slowly. We stopped at the edge of a dry rice paddy with a tree line on the other side. That would be where the ambush would be.

We sent a squad over and as the last man disappeared in the bushes all hell broke loose. We had stumbled into a large bunker system. When we got the squad back it was missing two men. I questioned the squad leader and he told me their point man was killed in the first volley of fire. The second man in line went to help him and was also killed. The third and fourth men in line were wounded. The squad leader moved up and verified the two men were dead and wisely got his men out of there. They were already under manned and only had nine men including the machine gunner who was laying down intense fire to cover the withdrawal. The squad leader had also been wounded so that left three able bodied men to help three wounded across the rice paddy while the machine gunner was doing his thing. I met them halfway and helped get everyone back to our lines.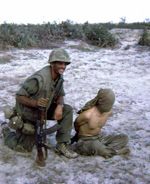 When the new 2nd Lt. found out that the squad had left the two dead guys behind he went off the deep end. I knew this squad leader and he said he was absolutely sure they were dead. It was then I realized that idiot 2nd Lt. was yelling for everyone to get on line because we're going to assault those bunkers and get our dead back. The troops knew that just was not a good idea and were looking at the Platoon Sgt. with lots of questions in their eyes. Sgt. Sam and I exchange looks and he grabbed one arm and I grabbed the other arm of the still raving Lt. and pulled him behind an abandoned hut. I took the lead and slammed him into the wall to get his attention. When he finally stopped yelling, I told him we were not going to get on line and make an assault. What we were going to do is set in place and call the company commander for help. He tried to argue with me when I told him if he did not stop acting like a fool and calling for help, I was going to relieve him. He looked at me and then Sgt. Sam who shook his head yes and finally got control of himself. He did turn out to be a fine platoon commander after this incident.

To make a long story short the company arrived and after several failed assaults over a twenty four hour period we were ordered to withdraw. The two dead marines were finally recovered several days later. It was learned that a reinforced NVA company was dug in there. They were staging for an offensive move against Dong Ha and Quang Tri. The NVA had pulled out by the time the unit got there to recover the bodies. The NVA apparently moved back north of the Qua Viet River. A week or so later the battle of Dia Do began.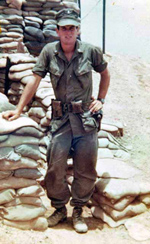 The next battle I was in was in May 1968. Our company was moved to the north bank of the Cua Viet River and we engaged the NVA units that had been fighting in Dia Do. We fought them for ten days straight. We were within range of the NVA artillery in the DMZ and got shot up badly by them. We had pushed the NVA north to a road that ran east and west about a kilometer or two south of the DMZ when we got the word to disengage and get out of there fast. We were only a Battalion and the rest of the NVA Division was coming across the DMZ. We managed to do that but it was the end of May and we did not realize it at the time but we would be coming back. We had lost so many men that we were pulled out of the field back to Quang Tri for a twenty-four hour break. We were fed steak and eggs got hot showers clean jungle utilities and our weapons looked at by the armorers. That was the first hot chow I had eaten since arriving in Vietnam.

On 5 July we started back to engage that NVA Division. This time we were a reinforced regiment with tanks. We moved forward with no contact until we got to that road that ran east and west. The NVA were right where we had left them. This time we only fought for seven days and were at the southern edge of the DMZ when we were ordered to withdraw. That would be the last major engagement I would be involved with.

OF ALL YOUR DUTY STATIONS OR ASSIGNMENTS, WHICH ONE DO YOU HAVE FONDEST MEMORIES OF AND WHY? WHICH ONE WAS YOUR LEAST FAVORITE?

I would have to say that my time in the field with A/1/3 was the most memorable. That was what I had trained for and I was surrounded by absolutely magnificent men. During that time I laughed and cried and was scared to death with those men. Nothing before or since can compare.

IF YOU RECEIVED ANY MEDALS FOR VALOR OR AWARDS FOR SIGNIFICANT ACHIEVEMENT, PLEASE DESCRIBE HOW THESE WERE EARNED.

I received the Navy/Marine Corps Commendation Medal with V device. It was a downgrade from a Bronze Star but that does not matter. I was just doing what I had been trained to do.

OF ALL THE MEDALS, AWARDS, QUALIFICATION BADGES OR DEVICE YOU RECEIVED, PLEASE DESCRIBE THE ONE(S) MOST MEANINGFUL TO YOU AND WHY?

The Combat Action Ribbon without a doubt. That one means I was there when the shooting was being done.

CAN YOU RECOUNT A PARTICULAR INCIDENT FROM YOUR SERVICE WHICH MAY OR MAY NOT HAVE BEEN FUNNY AT THE TIME, BUT STILL MAKES YOU LAUGH?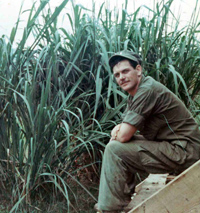 Just after I joined A/1/3 as their FO, the company was ordered to a new location. We were going cross country and at one point the company commander called me over. He had Lt. Bruce Lewy, platoon commander of the first platoon, there and we were checking the map to make sure we were where the Capt. thought we were. Now one map with three guys looking at it with three radiomen nearby is just shouting at the NVA to shoot at us. I was eating one of the chocolate candy bars that came in the C-rations. They tasted awful but I am a chocoholic and was eating it any way. Sure enough, there were a couple of NVA on the other side of the small stream where we were stopped and they opened up with their AK47's on full auto.

I have to stop here and tell you about the skipper and Bruce. The skipper was six feet tall and well muscled. He was small next to Bruce who is six foot six and wears size 15 boots. He's BIG. I was six feet at the time and weighed about 190 pounds. Well when the shooting started we dove for the nearest cover. Unfortunately the only cover was a skinny little bush about two feet tall with very few leaves. We were in a sandy area and there just was no other cover so there we were jostling each other trying to fit behind that damned bush that could not hide even one of us much less stopped any small arms fire. It was about then that I realized I was trying to keep that damned chocolate bar out of the sand. It immediately went flying.

Bruce's first platoon did their immediate reaction drill and drove the NVA off. After the shooting stopped I looked around for Oz. He was out in the open laying face down in the sand and not moving. I thought he had been hit. I called over "Oz, Oz?" Nothing! Again I called "Oz" still nothing. "Damn it Oz, answer me." I then heard a muffled "What?". "Are you OK?" He answered "Yea." I then asked him what the hell he was doing? His answer, "Playing dead!" He had been in country longer than me the new guy and knew that as a radio man he was a prime target and the best way to get the bad guys to not shoot at you when caught in the open was to make them think you were dead already. It worked.

WHAT PROFESSION DID YOU FOLLOW AFTER YOUR MILITARY SERVICE AND WHAT ARE YOU DOING NOW? IF YOU ARE CURRENTLY SERVING, WHAT IS YOUR PRESENT OCCUPATIONAL SPECIALTY?

After getting caught in the reduction in force and being forced out of the Corps my wife and I moved back to Ohio. My Uncle Jim, who had been in the Corps during the Korean War, got me on at a company that provided uniforms, shop towels, walk off mats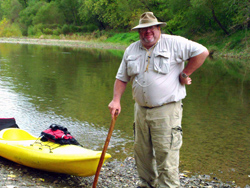 and other things for businesses in Ohio. I went from being responsible for three 1st Lt., two WO2's, a 1st Sgt., approx 80 troops as well as numerous Staff NCO's and NCO's. There was also the GS13 that ran my training aids library and a Navy Chief and six Sailors who ran my Navy to delivering uniforms. I did not know it at the time but I was suffering from PTSD and after several months of delivering uniforms, I told them to take this job and shove it.

I was out of work for most of a year when my wife put her foot down and I went to work for Household Finance as an Asst Mgr. I worked there until sometime in 1973 when once again I told the District Manager to take this job and shove it.

I then spent seven years as the Manager of Central Ohio School of Diving. I was also the Chief Instructor. This was my favorite job other than the Marine Corps that I ever held. It was while I was working at the Dive Shop that I fell 25 to 30 feet and broke my legs.

I decided that I could sit in a collage class room as easily as sitting at home and enrolled at Ohio State University as a 29 year old freshman. I continued to work reduced hours at the dive shop until early in 1980 I ran out of money to continue school and got a job with General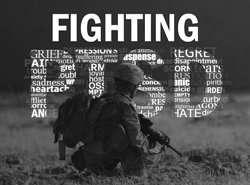 American Credits (GAC). It paid a lot more than the dive shop. I was a commercial Collector. Our clients dealt with other businesses and had our company collect the accounts receivable that was delinquent. All I had to do was make phone calls all day and arrange for payments. I worked for GAC for seventeen years and was a Unit Manager when that nasty PTSD raised its ugly head and once again I told my boss to take this job and shove it.

I was already in the VA system in the beginning of my treatment for PTSD. So I ended up getting very involved in treatment. The job at GAC was the last one I have had. Between the physical problems with my legs and the PTSD, diabetes and hearing loss, I was eventually diagnosed as unemployable (because of my age) and 80% service connected. I am now medically retired. It sucks.

WHAT MILITARY ASSOCIATIONS ARE YOU A MEMBER OF, IF ANY? WHAT SPECIFIC BENEFITS DO YOU DERIVE FROM YOUR MEMBERSHIPS?

I am a Life Member in Disabled American Veterans (DAV) and Third Marine Division Association. I am also a yearly member of American Legion, VFW and Vietnam Veterans of America (VVA). I do not go to any of their meetings although I was a Scoutmaster for a Boy Scout troop the VFW sponsored. I did the scoutmaster thing for about thirteen years and finally had to let a younger guy take over.

IN WHAT WAYS HAS SERVING IN THE MILITARY INFLUENCED THE WAY YOU HAVE APPROACHED YOUR LIFE AND YOUR CAREER?



My Marine Corps training and service influences every aspect of my life. Duty, Honor and Country are not just words. I am in contact with many people I have found through TWS and we get pretty political. The one thing we all agree on is the oath we took did not have an expiration date. I even line my belt buckle up on the fly in my trousers and seam of my shirt. The belt is a Marine Corps web belt of course. I am very proud of my service in the Corps.

BASED ON YOUR OWN EXPERIENCES, WHAT ADVICE WOULD YOU GIVE TO THOSE WHO HAVE RECENTLY JOINED THE MARINE CORPS?

Back when the first Gulf War started I really wanted to get back in because I was convinced I could teach those youngsters how to stay alive in combat. Then I started watching CNN. That was the beginning of my realization that they did not need any help from this old guy. Since then I have been paying very close attention to what is going on in my Marine Corps and I am happy to say that the Corps is in good hands.

SEMPER FI

IN WHAT WAYS HAS TOGETHERWESERVED.COM HELPED YOU REMEMBER YOUR MILITARY SERVICE AND THE FRIENDS YOU SERVED WITH.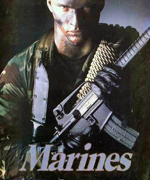 For years I was unhappy that I could not remember the names of the guys I served with in Vietnam. Part of that was due to the PTSD and part because we went by nicknames. After joining TWS I have made contact not only with some of the guys I served with but others that were in the same units either before or after I was there. I have also meet some in the forums that have become friends. Later this year I am going to Oklahoma City and get together with My radioman from Vietnam. We have not been eye to eye since 1968. We have been in contact via email.

THANKS TWS!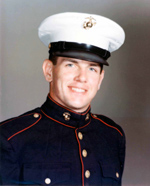 1stLt Donald Stover


Contact This Member


Read Other Interviews in the TWS Voices Archive
TWS VOICES
TWS Voices are the personal stories of men and women who served in the US Military and convey how serving their Country has made a positive impact on their lives. If you would like to participate in a future edition of Voices, or know someone who might be interested, please contact TWS Voices
HERE
.
---
---
Marines.Togetherweserved.com
Semper Fidelis - Always Faithful. It's more than a motto. It's a way of life. TogetherWeServed.com is a unique, feature-rich resource helping Marines stay faithful to the Brotherhood of the Corps. This is a place where Marines can re-connect with lost Brothers, share memories and tell their Marine story.
To join Marines.Togetherweserved.com, please click
HERE
.
---