Last Rank
Staff Sergeant
Last Primary MOS
0311-Rifleman
Last MOSGroup
Infantry
Primary Unit
1995-2007, USMC (United States Marine Corps)
Service Years
1995 - 2007




Last Photo



Home State

| | |
| --- | --- |
| Georgia | |

Year of Birth
Not Specified

This Military Service Page was created/owned by Sgt Scott Jackson (Action Jackson) to remember Marine SSgt Marcus Golczynski (SGT SKI).

If you knew or served with this Marine and have additional information or photos to support this Page, please leave a message for the Page Administrator(s)

HERE

.

Casualty Info

Home Town
Not Specified
Last Address
Lewisburg, TN


---

Casualty Date
Mar 28, 2007
Cause
Hostile, Died of Wounds
Reason
Gun, Small Arms Fire
Location
Tennessee
Conflict
Operation Enduring Freedom
Location of Interment
Wheel Cemetery - Bedford County, Tennessee
Wall/Plot Coordinates
Not Specified
Last Known Activity





MURFREESBORO ? "We are warriors," Marine Sgt. Marcus "Marc" Golczynski wrote in a recent e-mail to his family.

"And as warriors have before us, we joined ? and are following orders because we believe what we are doing is right. Many of us volunteered to do this a second time due to our deep desire to finish the job we started. We fight and sometimes die, so our families don't have to."




Golczynski, 30, was to come home by Easter. He died Tuesday after he was shot while on patrol in Fallujah, a hot spot of insurgent activity.

Also known as "Sergeant Ski," Golczynski was assigned to Marine Forces Reserve's 3rd Battalion, 24th Marine Regiment, 4th Marine Division, based in Nashville.

The official military account says he was shot in the abdomen by enemy forces while conducting a dismounted patrol in the Al Anbar province.

He was taken to Fallujah Surgical for treatment, where he died. The report said Golczynski was wearing body armor and a Kevlar helmet when he was shot.

He is the son of Elaine Huffines of Lewisburg and Henry Golczynski of Murfreesboro. Fay and Henry Golczynski, owners of Franklin Printworks in Murfreesboro, received the news late Tuesday.

Sgt. Golczynski had an 8-year-old son who lives with his mother in Maryland.

"He was truly a family man," said John Weatherspoon, who works at Franklin Printworks. "He loved his son, his family and his friends."

Weatherspoon spoke with the Marine a week ago.

He said Golczynski was in good spirits and was eager to come home.

"But we also talked about how, even if he didn't make it, he knew he was doing the right thing," Weatherspoon said. "He didn't have any regrets."

Marilyn Shelton, who also works at Franklin Printworks, said he was a "gung-ho Marine" and a patriot but also someone who made the workday easier for those around him.

"He made the day light," Shelton said. "Everything was fun with Marc."

Diane Borella, who worked with Golczynski at a Ruby Tuesday restaurant in Smyrna, where he was a manager, said he was a joy to be around and always had a smile on his face.

When he came home from Iraq after his first tour, he wanted to return to continue the fight, she said.

"He said it was like (when you) don't finish your shift here at Ruby Tuesday's, because your work was not done yet," Borella said.

Golczynski is the fifth Rutherford County resident killed in the war and the 70th Tennessean service member.



Comments/Citation
Marine reservist Marcus Golcsynski, 30, was expected to return home next month, but he was killed in combat while serving in Iraq.


picture of Marcus' son receiving the flag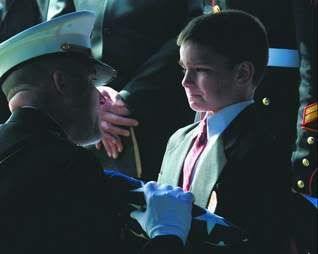 Golczynski was killed Tuesday while in the Anbar Province of Iraq.

He was assigned to marine Reserves 3rd Battalion. His unit was due home in two weeks. His death led to his family's tears of sorrow, but his wishes to do what he loved led them to tears of pride and joy.

"He never hesitated to go back, believed in what he was doing and he died for his country," his father Henry Golczynski said.

Golcsynski was in his second tour to Iraq when he was killed.

"I was looking through pictures today and he was elected the class favorite of most school spirit and he not only had school spirit in high school, I think he had spirit in the marine corp," his mother Elaine Huffines said.

Golczanski's family said that he wanted to return to look after the young marines.

"[He said] I can't let them to go over there by themselves without having someone to look after them," Huffines said.

In every email, Golczanski remained positive about what he was doing and has a special message for his family.

"Many of have volunteered to do this a second time due to our deep desire to finish the job we started. We fight and sometimes die so that our families don't have to," one email said.

Golcsynki grew up in Lewisburg, where he still has family including his mother. His father lives in Murfreesboro, where fellow soldiers visited them today to make final arrangements. He leaves behind a 6-year-old son.

Golcsynski was believed to have been the only marine killed Tuesday in the Anbar Province of Iraq.