Communications
TWS Ribbon Bar
Current Service Status
USMC Veteran
Current/Last Rank
Sergeant
Current/Last Primary MOS
2511-Field Wireman
Current/Last MOSGroup
Communications
Previously Held MOS
0300-Basic Infantryman
3041-Supply Administrative Man - Manual Accounting
Primary Unit
1969-1969, 2511, 1st Bn, 6th Marine Regiment (1/6)/H&S Co
Service Years
1966 - 1969

Foreign Languages

French

Spanish

Official/Unofficial USMC Certificates

Marine Combat Water Survival 1st Class (CWS-1)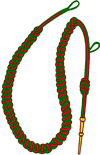 What are you doing now:
International Trade Finance: formerly with, the Export-Import Bank of the United States.

Assignments with the following civilian organizations:
Allis Chalmers Mfg. Company, West Allis, Wisconsin
John Deere Intercontinental Ltd., Venezuela, Colombia
Bucyrus-Erie Company, South Milwaukee, Wisconsin
International Harvester Company, Miami, Florida
IH de Mexico, SA de C.V., Mexico, D.F., Mexico
Trade Finance Corporation, Coral Gables, Florida
Southeast Bank, N.A., Miami, Florida
Sears World Trade, Inc., Washington, D.C.
Eastern Airlines Trading Company, Miami, Florida
Agritech Trading (Marchesan, Brazil), Sterling, Virginia
Thompson Delstar, Arlington, Virginia
Marktill Corporation (Marchesan), Cedartown, Georgia
Romlease, S.A., Bucharest, Romania
Interlease, AD, Sofia, Bulgaria
Banco Intercontinental, S.A., Santo Domingo, Dom Rep
CSI Leasing de Centroamerica, San Jose, Costa Rica.
Coldwell Banker Commercial NRT, Miami, Florida
Banco Internacional de Costa Rica, Miami, Florida
Other Comments:
Would like to hear from any Marine/Corpsman who served with me. (See "The Missing List" on the right side) In particular, I'd like to locate the following: MCRD San Diego Platoon 3070 recruits who graduated in Sep 1966, Marines that underwent Infantry Training with Y Company, 3rd Bn, 2nd ITR, MCB Camp Pendleton Sep-Oct '66, and those who took basic wire communications school in the same base Oct-Nov '66; 9th Comm Bn (RR&C Co) Marines who served in 1966-1967 at MCB 29 Palms, California, the wife of a senior NCO at MCB 29 Palms who picked up my buddy and me from an aircraft accident site near the town of 29 Palms, and rushed us to the base hospital on June 30 1967; 2nd LAAM Bn, HQ Battery, in Chu Lai, Vietnam, from Feb 68 to May 68; 2nd LAAM Bn, Alpha (A) Battery, in Ky Hoa Island, Chu Lai, Vietnam, from May 68 until Oct 68; MASS-2, Dong Ha DASC/ASRT Detachment, Dong Ha, Quang Tri, Vietnam, from Oct 68 to Jan 69, also Hill 55 ASRT, for whom I set up their wire comm; MASS-2, Vandegrift (LZ Stud) Task Force Hotel DASC/ASRT Detachment, Ca Lu, Quang Tri, Vietnam, from Jan 69 to Feb 69; H&S Co., 1st Bn, 6th Marines, Camp Lejeune, NC, from Mar 69 to May 69.

Boyd, Larry, Cpl

, (1966-1970)

Phillips, James C., Cpl

, (1942-1946)
1966-1966, 0300, 3rd Infantry Training Bn/Y Co
1966-1966, 2511, Field Wireman Course
1966-1967, 2511, 9th Comm Bn/RR & C Co
1967-1967, 3041, 9th Comm Bn
1968-1968, 2511, MACG-18/2nd LAAM Bn (Vietnam)
1968-1968, 2511, MACG-18/2nd LAAM Bn (Vietnam)
1968-1969, 2511, MACG-18/MASS-2
1969-1969, 2511, MACG-18/MASS-2
1969-1969, 2511, 1st Bn, 6th Marine Regiment (1/6)/H&S Co