Last Rank
Sergeant
Last Primary MOS
0311-Rifleman
Last MOSGroup
Infantry
Primary Unit
1942-Present, 0311, MIA - WWII
Service Years
1937 - 1942
Official/Unofficial USMC Certificates

Golden Dragon Certificate




Current Photo



State of Birth

| | |
| --- | --- |
| Georgia | |

Year of Birth
1916

This Military Service Page was created/owned by

Cpl Roger Rape (Mouse)

-Deceased to remember Marine Sgt Paul Armstrong.

If you knew or served with this Marine and have additional information or photos to support this Page, please leave a message for the Page Administrator(s)

HERE

.

Contact Info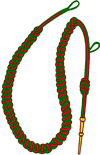 Last Known Activity

Birth and Early Life:
Paul Armstrong was born on April 1, 1916, in Tennessee. His parents, Winfield and Cora Armstrong, raised their family in Hawkins, where Winfield worked as a letter carrier for the post office. Shortly after his 21st birthday, in 1937, Paul joined the Marine Corps.
Enlistment and Boot Camp:
After enlisting in Macon, Georgia on September 17, Private Armstrong was sent to Parris Island for boot training. That November, he was sent to his first assignment with Company B, First Battalion, Fifth Marines.
Service Prior to 1941:
Armstrong was with B Company in Quantico until April, 1939, at which time he extended his enlistment for a year in order to serve in Asia. He boarded the transport USS Henderson and sailed for California, where he changed to the USS Chaumont. By August 1939, Armstrong was serving with Company A, First Battalion, Fourth Marines in Shanghai. He was promoted to Private First Class in December, and to Corporal the following September; Armstrong'??s assignment with Company A would continue through the end of 1940.
Wartime Service:
Corporal Armstrong traveled with the Fourth Marines to the Philippines in late 1941 to help prepare defenses against the predicted Japanese attack. He fought through the Philippine campaign, and participated in the siege of Corregidor. During this time, Armstrong was promoted to Sergeant and transferred to Company K; in the spring of 1942, he joined the Regimental Headquarters company.
Date Of Loss:
Paul Armstrong was killed on May 6, 1942, when the Japanese overran Corregidor. His exact fate is unknown, but a sergeant from Regimental headquarters, Floyd Tebo, would later swear to having witnessed Armstrong'??s body shortly after the surrender.
Next Of Kin:
Parents, Winfield & Cora Armstrong
Status Of Remains:
Unknown.
Other Comments:

1937-1939, 0311, B Co, 1st Bn, 5th Marine Regiment (1/5)
1939-1941, 0311, A Co, 1st Bn, 4th Marine Regiment (1/4)
1941-1942, 0311, K Co, 3rd Bn, 4th Marine Regiment (3/4)
1942-Present, 0311, MIA - WWII