Last Rank
Captain
Last Primary MOS
0302-Infantry Officer
Last MOSGroup
Infantry
Primary Unit
1942-Present, 0302, Missing In Action
Service Years
1939 - 1942
Official/Unofficial USMC Certificates

Golden Dragon Certificate

Shellback Certificate
Current Photo



State of Birth

| | |
| --- | --- |
| California | |

Year of Birth
1920

This Military Service Page was created/owned by Cpl Steven Ryan (LoneWolf) to remember Marine Capt Willard Woodward Keith, Jr..

If you knew or served with this Marine and have additional information or photos to support this Page, please leave a message for the Page Administrator(s)

HERE

.

Contact Info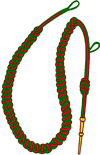 Last Known Activity

Shortly before World War II in April 1940, 2nd Battalion 5th Regiment was again reactivated. The fighting in World War II found the Marines of 2nd Battalion at Guadalcanal.
November land actions
In order to exploit the victory in the Battle for Henderson Field, Vandegrift sent six Marine battalions, later joined by one U.S. Army battalion, on an offensive west of the Matanikau. The operation was commanded by Merritt Edson and its goal was to capture Kokumbona, headquarters of the 17th Army, west of Point Cruz. Defending the Point Cruz area were Japanese army troops from the 4th Infantry Regiment commanded by Nomasu Nakaguma. The 4th Infantry was severely understrength because of battle damage, tropical disease, and malnutrition.
The American offensive began on 1 November and, after some difficulty, succeeded in destroying Japanese forces defending the Point Cruz area by 3 November, including rear echelon troops sent to reinforce Nakaguma's battered regiment. The Americans appeared to be on the verge of breaking through the Japanese defenses and capturing Kokumbona. At this time, however, other American forces discovered and engaged newly landed Japanese troops near Koli Point on the eastern side of the Lunga perimeter. To counter this new threat, Vandegrift temporarily halted the Matanikau offensive on 4 November. The Americans suffered 71 and the Japanese around 400 killed in the offensive.
Capt Willard Woodward Keith, Jr. was Declared Missing on Nov. 3, 1942.
Other Comments:

Navy Cross
The President of the United States of America takes pride in presenting the Navy Cross (Posthumously) to Captain Willard Woodward Keith, Jr. (MCSN: 0-6950), United States Marine Corps Reserve, for extraordinary heroism and distinguished service while commanding Company G, Second Battalion, Fifth Marines, FIRST Marine Division, in action against enemy Japanese forces on Guadalcanal, Solomon Islands, on the afternoon of 2 November 1942. During an offensive by the battalion in the Matanikau River Area, Captain Keith, with exceptional skill and inspiring courage, led a platoon against a hostile strong point made up of a single platoon reinforced with machine guns. Although the Japanese positions were firmly entrenched on commanding ground and concealed by heavy jungle growth, Captain Keith, recognizing the inability of our mortar and artillery fire to dislodge the enemy, initiated and led successive bayonet and hand grenade charges in the face of tremendous fire until the hostile group was annihilated and he himself was killed. His grim determination and aggressive devotion to duty were in keeping with the highest traditions of the United States Naval Service. He gallantly gave up his life in the defense of his country.
Action Date: November 2, 1942
1939-1940, 0100, Platoon Leaders Class (Cadre)
1940-1942, 0302, Marine Barracks Navy Yard WASHDC
1942-1942, 0302, G Co, 2nd Bn, 5th Marine Regiment (2/5)
1942-Present, 0302, Missing In Action